L'hôtel de Pouillon, 2023
L'hôtel de Pouillon (Pouillon's hotel) 2023
Stone and wood, whitewashed, models.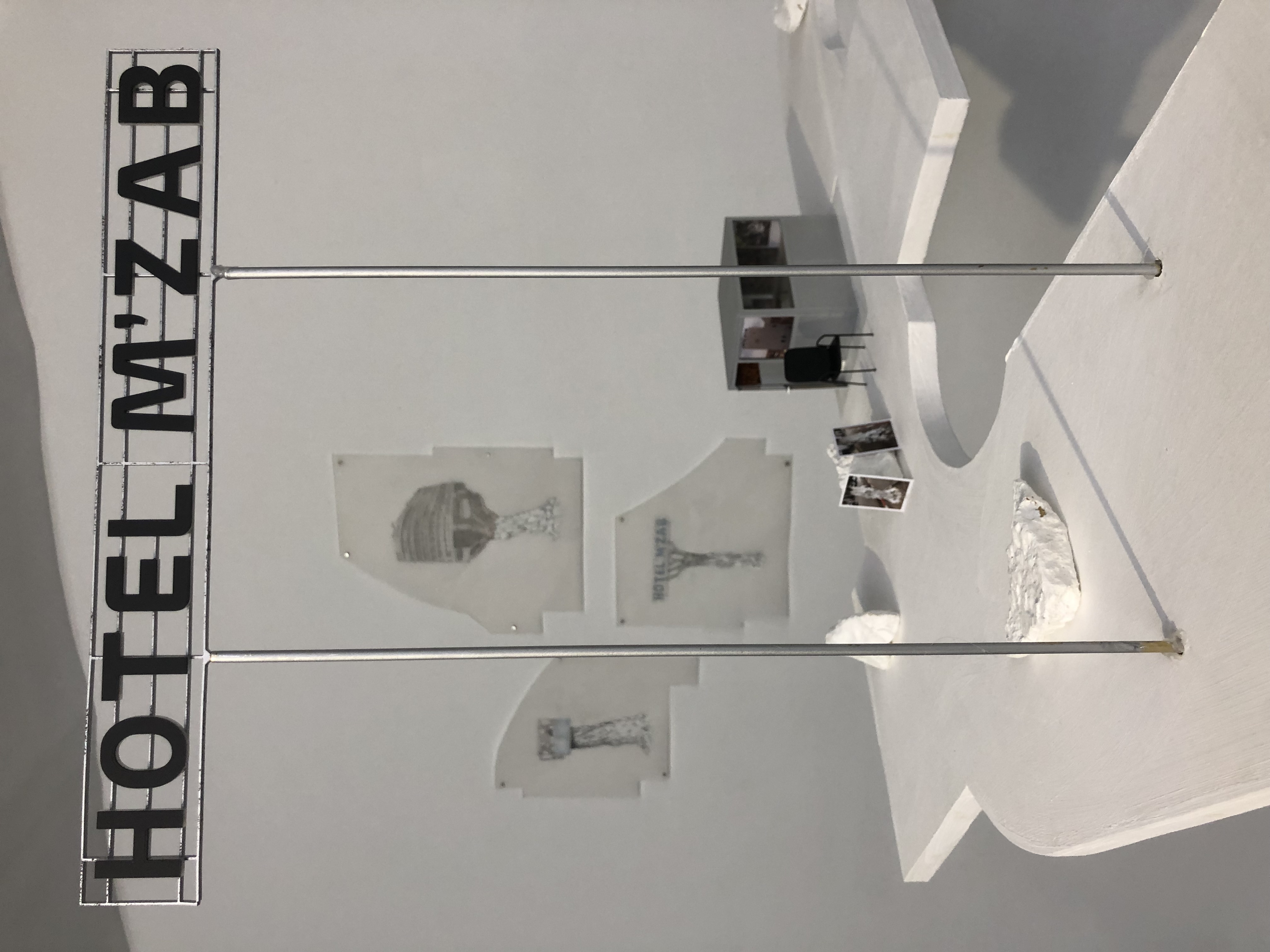 The first suspended spaces residency in Marseille was hosted in the Canebière Building, built by Fernand Pouillon. On this occasion I began a work seeking contacts, relationships with people, elements and forms that were "on my way" through Algiers towards Ghardaïa in the Algerian Sahara. The first step was the meeting with Nasser, janitor of the Canebière Building with whom I spent an afternoon in his janitor's booth, a simple architecture within the architecture, decorated with images of Marseille and Algeria...
The sculpture that I present in the exhibition OUBOUR / عبور - Marseille / Algiers / Ghardaïa from March 23 to April 22, 2023 at the Gallery of the big baths showers of the Plain in Marseille is an assembly of elements and encounters gleaned on this crossing that ended in Ghardaïa where Fernand Pouillon realized the Hotel M'Zab, whose sign welcomes us and also refers us to our status of strangers and visitors...
Curator: Vanessa Brito with the collective Suspended spaces @collectifsuspendedspaces
with Kader ATTIA ; Stefanie BAUMANN ; Adila BENNEDJAÏ ZOU ; Mounia BOUALI ; Jean-Claude CHIANALE ; Alessia DE BIASE ; Marcel DINAHET ; Angela FERREIRA ; Camila FIALHO ; Maïder FORTUNÉ ; Mounir GOURI ; Valérie JOUVE ; Jan KOPP ; Mourad KRINAH ; Daniel LÊ ; Elisabeth LEUVREY ; Amina MENIA ; Françoise PARFAIT ; Lydia SAÏDI ; Stéphane THIDET ; Éric VALETTE ; Camille VARENNE
The Suspended spaces collective proposed to work on the idea of crossing, of going towards, for a displacement that we imagined, prepared, documented, for which we looked for relays, stories, witnesses. We insist on the journey, mental or literal, direct or diverted.
The Traverser project began in Marseille in 2021, the most Algerian of French cities. From the port, lines were stretched towards the architecture of Ghardaïa which inspired modernity, fascinated Le Corbusier, crossed the path of Fernand Pouillon and engaged André Ravéreau.
The next step led us by boat to Algiers, a city that mirrors Marseille, close and distant at the same time, so many stories of exile, of coming and going, nourished by personal stories and suspended desires, rush into the space that separates them. Envisaging a trip to Algeria, from Marseilles, is therefore also to return, once again, to the relationship between these two countries, full of amnesias and suspended memories.
The residency that we organized in Algiers in 2022 brought together 16 Algerian and international artists around these questions in a complex city where a stratified history can be read.
A little further in the horizon of this project, Ghardaïa, in the Mzab valley, a city founded by the Ibadites, mostly populated by Mozabites who perpetuate a singular social organization, constitutes a historical and cultural heritage that could seem impervious to the world. An elsewhere. An island. The Sahara desert and the Mediterranean Sea are spaces of crossing which engage destinies. Ghardaïa is a place of projection and modern inspiration, at the crossroads of political, economic and ecological crises and also of imaginations.
An exhibition realized within the framework of the program of support to the artistic creation Nouveaux Mondes